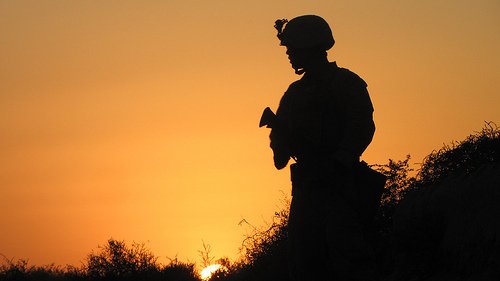 For the record we understand why the Pentagon uses a standardized report to brief various congressional committees, but this doesn't dispel the creepy feeling of group-speak. Maybe we're wrong to expect more than one report, though multiple reports aren't exactly uncommon.
Case in point: when General Brig. Gen. John Nicholson
went before
the Senate Foreign Relations Committee, his partner Frank Ruggiero offered a specific account of Marjah to accompany Nicholson's general account of the war.
Of course Ruggiero might find himself giving the same speech in the future. Other mouths too.
As we troll through congressional and outside accounts of Afghanistan, some of the information can't help but blend together. Already watered down for civilians a handful of statistics are repeated to us: three times the US civilian presence and 59% of Afghans thinking the country is headed in right direction.
The first stat is especially misleading given how low the civilian presence was before 2009.
But US officials sounded like they were literally reading from the same script - because they in fact were. Nicholson's "prepared remarks" also found themselves coming out of Michèle Flournoy (
pdf of testimony
), Under Secretary of Defense for Policy U.S. Department of Defense.
They wrap up their briefing, Nicholson to the Senate and Flournoy to the House Armed Services Committee:
"Let me conclude by underscoring our assessment that the insurgency is losing momentum and we are heading in the right direction. That said, the outcome is far from determined. While over 505 of the additional forces are in place, those still to come are critical to achieving success. None of what we are doing in Afghanistan involves quick fixes. These are long-term problems, and their solutions will require both patience and flexibility. At this point, though, we are cautiously optimistic. As said earlier, we believe we have the right mission, the right, strategy, the right leadership, and the right resources. As we move forward, we will continue to adjust - and we believe that we will continue to make progress."
And finally they ask for $110.3 billion to fund Operation ENDURING FREEDOM (OEF) within "Overseas Contingency Operations" for the DoD's FY11, as well as an FY10 Supplemental request for $28.8 billion for OEF.
Feels like a pitch rather than objective analysis.
While we recognize the Pentagon's system of informing Congress, that system may be part of the problem. It's worrying in general that the Pentagon's standard update on Afghanistan is all roses, over-correcting the ground for the American people. Such a complex and confusing war cannot be so neat as the Pentagon presents it.
The report only mentions Afghanistan's presidential election once, sandwiched between two smiles.
"We've seen other positive indicators in the last year, as well. Of the 121 key terrain districts identified by ISAF in December 2009, 60 were assessed as sympathetic or neutral to the Afghan government. By March 2010, that number had climbed to 73 districts. Although Afghanistan's August elections were marred by allegations of fraud, these allegations were addressed through constitutional means. Ultimately, a new government was formed. Despite the serious issues that remain to be addressed, a national survey completed in March 2010 indicates that 59% of Afghans believe their government is headed in the right direction, an increase of 0.5% over December 2009 and 8% over September."
Notice the emphasis on
allegations
.
Karzai has "taken the lead" according to the report, which also highlights the London Conference as progress. You know, the one that descended into an argument over whether to negotiate with the Taliban.
But the last quote truly reflects the Pentagon's insular, monopolistic military thinking so dangerous to counterinsurgency: "we believe we finally have the right mission, the right strategy, the right leadership, and the right resources."
Really? The mission went from al-Qaeda to the Taliban and back to the TTP in a hurry; promoting democracy fluctuates according to the White House's needs.
And who is "we?" The Pentagon? President Obama, US ambassador Karl Eikenberry and US envoy Richard Holbrooke? Karzai? Afghan governors and mayors? Local Afghan police? Pakistan's civilian government and military establishment? Disturbingly ambiguous, as many of these players' abilities remain suspect.
As for resources, Obama gave McChrystal less troops than requested and NATO failed to fill the gap in combat troops and trainers. So we know that isn't true.
We can't shake the shady image of the Pentagon, through its various officials, echoing to Congress that they're the right leadership. Congress needs to hear more outside opinions on Afghanistan. Lots of them. Soon.

This is the smallest start.