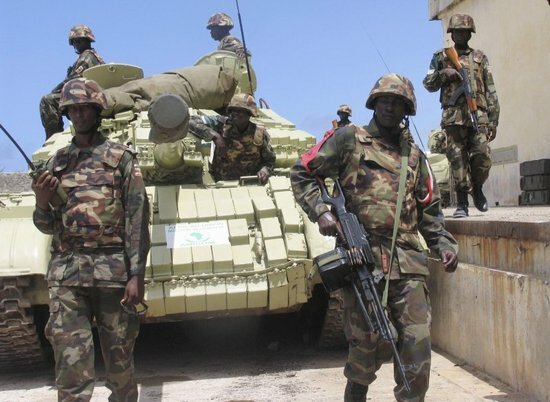 It might be the Transitional Federal Government's (TFG) most successful assault to date. Following al-Shabab's Ramadan offensive on the presidential villa in Mogadishu, government officials and African Union (AU) commanders in Somalia have capitalized on the group's infighting to sow the message of their defeat. Modest security gains were enhanced through the international media, building the case for AU reinforcements.

Now, in a sleek combination of polling and politicking, TFG officials are making their final argument.

"Many articles that you read say that the government only controls a few blocks and it could not survive without the help of AMISOM," Abdulkareem Hassan Jama, Somalia's new Information and Telecommunication Minister, told reporters at UN headquarters. "There are vast areas of Mogadishu, over 55 percent, which is controlled, along with the AMISOM forces, by the Somali army, the transitional government forces."

The veracity of his statement is immediately lost in its glossy finish. Maybe this new guard of Somali ex-pats did learn a few New York marketing pointers, illuminating their executive table through the simple brilliance of "TFG controls half of Mogadishu." Western and African medias are running with the tailor-made headline, snowballing perceptions in favor of Somalia's new government. It's not enough just to take territory in a fourth-generation war. One must amplify that success through the information field.

The TFG and AU are finally doing both.

"As we speak now, areas under the control of AMISOM and the Somalia Government constitute closely to fifty percent of Mogadishu," added Wafula Wamunyinyi, Deputy Special Representative of the Chairperson of the AU for Somalia.

Speaking to equally critical audiences - the Somali people and Western donors - TFG and AU officials have benefited from the rare fortune of being good and lucky. Their strategy is melding together piece by piece, but the TFG and AU's own progress wouldn't be possible without a decline in al-Shabab's health. The group overplayed its hand in Mogadishu as it continued advancing into Somalia's central and northern regions, and beat itself up trying to topple the TFG for good.

Although the TFG has planned and stalled on numerous offensives to retake the capital and al-Shabab's southern territory, its high may finally match al-Shabab's low. An impatient Yoweri Museveni recently visited Mogadishu for the first time in 18 years, where Uganda's President condemned the international community for moving too slow. While Museveni has yet to receive permission and international funds to deploy another 12,000 troops - to meet his 20,000 target - the UN is expected to raise the AU's force level from 8,000 to 12,000 in the next few weeks.

"The extra African troops will be used to further extend government control in the country," explained Jama.

Somalia's new Information Minister certainly embodies the can-do spirit of Mohamed Abdullahi Mohamed, Somalia's latest Prime Minister. The collection of ex-pats hear the whispers that Washington prefers to replace the TFG after its mandate expires next August, and resemble sports athletes in their contract years. Mohamed is fond of corny political slogans and apparently his circle shares that affinity. Jama declared, "overall Somalia is not, as some would put it, mission impossible, it is mission possible."

But is it?

The information battle for Mogadishu has raged no less intensely than the military struggle for its 16 districts. TFG and AU officials are as notorious for their optimistic assessments as al-Shabab, and only now does reality appear to be catching up to their view. The TFG insists that half of Mogadishu is now under control, with four districts in al-Shabab's hands and four contested by both sides.

While any growth is good, the TFG and AU still have a long, hard fight before planting their flag over the entire capital. Those eight districts held by the TFG are bunched along Mogadishu's coast: Dharkeynley, Wadaji, Waberi (location of the airport), Hama Jabjab, Hamar Weyne (location of Villa Somalia), and the newly-reinforced Bondhere and Shibis neighborhoods. This situation isn't so different from previous months except for Bondhere and Shibis.

The rest of the city and a larger area by comparison - Heliwa, Karan, Abdi Aziz, Yaqshid, Wardhigley, Hawl Wadag, and Horan - remains in al-Shabab's possession, Hizbul-Islam's, or up for grabs.

For the moment TFG and AU troops have adopted the only strategy available, inflating the bubble around Villa Somalia by pushing into Bondhere and Shibis on the right flank. Sufi militia Ahlu Sunna
Waljama'a
, the TFG's proxy ally, has attacked left into Horan while TFG and AU troops press the center in Hawl Wadag, home to the Bakara arms market. But al-Shabab is particularly dug into the vital piece of territory surrounding Villa Somalia and fighting hard to keep it. AU commanders have already earmarked any future reinforcements for Bakara, which could result in a costly battle by itself.


Swaths of the city lie beyond these zones and the fight through them is unlikely to let up afterward.
While al-Shabab has weakened relative to five months ago, when it enjoyed free reign over the majority of Mogadishu, the task of seizing its remaining districts can be inferred from the TFG's own confidence. Everything is great now that another 4,000 troops may be on the way, all of which are necessary to retake the city.

Attacking in full force during al-Shabab's vulnerable point is sound military strategy, yet the true extent of its division remains an unknown variable. Ahmed Abdi Godane, aka Sheikh Muktar Abdirahman Abu-Zubeyr, and his deputy Sheikh Muktar "Abu Mansur" Robow have laid low after feuding over their Ramadan offensive. Losses range from 500 and 700 men, mostly Robow's. The two also hail from separate regions, Godane from Somaliland and Robow from southern Somalia, which has led to disagreement over al-Shabab's national agenda.

And their supporters have further stirred the pot. Sheikh Fuad Mohamed Khalaf "Shongole," an ally of Robow, recently addressed a mosque in Mogadishu's Bakara Market by denouncing Godane for his "hidden agendas." Shongole added that, "a leader is he who addresses his people and leads his people towards all good things, but fighting everyone is not part of the solution."

There's no question that al-Shabab's turbulence creates the opportune time to strike.
It's even possible that AU commanders have assumed a passive aggressive stance until reinforcements arrive, hoping that al-Shabab continues to bicker over
aid organizations,
clan status, the influence of foreigners
,
the scale of their objectives, and who to blame. TFG officials have waited for the tables to flip and surely relish this moment.

H
owever the TFG and AU must take advantage of al-Shabab's feud while it lasts. While opening the only route to seizing the capital, another 4,000 AU troops will likely provide the motivation al-Shabab needs to pull itself together. Khalaf also condemned Godane because of a correctable offense; Khalaf described the recent attacks on Hizbul-Islam - Muslim on Muslim - as haraam, or "forbidden."

Many al-Shabab and Hizbul-Islam fighters agree, and one Hizbul-Islam unit just joined al-Shabab, something other factions have already done. Now emerging reports have Sheikh Hassan Dahir Aweys, Hizbul-Islam's chief, merging his remaining fighters with al-Shabab for the battles ahead. Although the former allies retain key differences over a national agenda and could fall out again, the situation dictates that they unify.

Sheik Mohamed Osman Arus, Hizbul-Islam's head of operations, affirmed the move to the Associated Press but denied "saving face." Politicking can't hide the military value of this decision though, and al-Shabab is likely to close ranks under duress. Recruiting has lost potential after their latest setbacks, but al-Shabab and Hizbul-Islam can put aside their differences and align on a permanent basis.

The two groups will likely mount a stiff resistance in Mogadishu when AU reserves finally deploy.

Although TFG and AU officials have vowed offensives throughout the year, jading their credibility, some troops are bound to arrive regardless of the West's decision to green-light AU reinforcements. Abdihakim Mohamoud Haji Faqi, Somalia's Deputy Prime Minister and Minister of Defense, just graduated 907 Somalis from the Bihanga Army Training School in Ibanda, Uganda. The EU-funded training programs are key to Somalia's fledgling national army, which must ultimately relieve the AU from its responsibilities. Vincent De Visscher, the EU ambassador and Head of Delegation, said a second batch of Somali troops will begin training in January, while Faqi added that three to five battalions must be readied in the near-term.

The first unit will be thrown directly into the fire according to Wamunyinyi: "We hope the Transitional Federal Government (TFG) will be able to take charge of these disputed districts with the passing out of one thousand TFG soldiers in Uganda."

Meanwhile Jama believes that another 4,000 AU troops could expand across the country, but the TFG's gravest error will occur inside this line of thinking. Whatever they promise in public, TFG and AU officials must remain grounded in Mogadishu and not become overly aggressive. 1,000 freshly-trained Somalis, no matter how well motivated, won't provide the decisive boost in Mogadishu. Another 4,000 AU troops will barely cover the city, as 7,000-8,000 have managed to gain between a quarter and half of its districts.

The remaining territory poses a vast urban battlefield, leading some AU commanders to peg Mogadishu's need at 20,000 troops.

Mogadishu's non-military requirements also dictate that the force remains concentrated in the city, rather than expand into central and southern Somalia. And how effective they are depends largely on how much corruption the TFG can eliminate. Corruption affects Somalia in its entirety since the international community pays the salaries of all government employees. Over the past two years alone, millions of Western dollars have disappeared to "ghost soldiers" - fake names on government payrolls.

Real soldiers, paid nothing for months, often desert to al-Shabab and take their arms with them.

Tapping into Somalis' revenge against al-Shabab also comes with a dual-edge. Somalis must fight for Somalia, not vengeance, and believe in the TFG beyond the weapon it gives them. They must be paid regularly and provided services - and civil services currently operate on pennies, if at all. Jama claimed between "70 and 80 percent of the population" resides in government-controlled areas, and that a recent surge into government territory has boosted economic activity. However 40% of Mogadishu's estimated 1.5 million people are displaced, exacerbating the TFG's burden to protect them.

AU forces must take great pains to keep their hard-earned trust of Somalis; al-Shabab can make any foreign troops look good and the AU cannot allow its standard to slip as a result. AU commanders regularly deny claims of civilian casualties as "militant propaganda," although some will admit to collateral in their hunt for al-Shabab. It can't be helped, they argue, a dangerous mindset to fall into during counterinsurgency.

Whether Somalia is now "mission possible" remains undecided. However the country is showing glints of progress to build on, and these must be cultivated rather than risked. For months the AU's strategy has envisioned a gradual takeover of Mogadishu, combined with simultaneous pincer movements on al-Shabab's western flank (Ethiopian border), before moving down Somalia's southern coast. "Oil-spot" COIN is less viable against al-Shabab than a gradual advance south, which keeps Mogadishu and the government's rudimentary supply lines behind the front instead of isolated in al-Shabab's territory.

A future battle for Mogadishu is taking shape in the next year. Though AU reinforcements aren't automatic, Museveni and TFG officials have been angling Western donors since al-Qaeda bombed Kampala at al-Shabab's request. Some hesitation exists, but they're obliged to follow through in the near-term. Mogadishu represents an eight-month audition for the wider country, and both the TFG and AU are itching to prove their worth. Then maybe - maybe - they'll get the rest of Museveni's 20,000 troops.

So when the battle does hit Mogadishu, it's likely to hit hard.