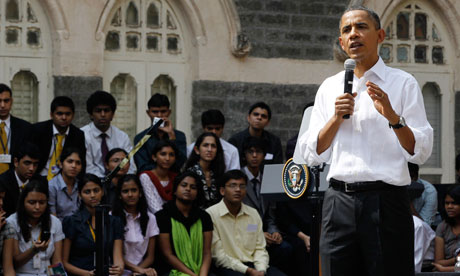 Try as he did, there was simply no escaping. To remain silent would speak louder than he wished in the first place. US President Barack Obama chose the middle path between a weak and moderate response to the disputed Kashmir territory, foregoing a dramatic push that could have strong-armed India and Pakistan to the negotiating table. This isn't unexpected; the easiest path of resistance was the likeliest possibility.
Dodging Kashmir for two days and visibly leery of the topic when finally cornered, Obama made sure to keep Kashmir out of the headlines. "
India has arrived as a global power
," or some variation of this thinking, dominates the US and Indian medias, along with the ubiquitous quote, "I don't think India is emerging. It has emerged. India is a key actor on the world stage."
These are true statements.
"I want every Indian citizen to know: The United States of America will not simply be cheering you on from the sidelines," Obama said inside the legislative chamber of the New Delhi. "We will be right there with you, shoulder to shoulder, because we believe in the promise of India."
But this very hype also generated the inevitable. Such a statement would make no sense in complete absence of the Kashmiri dispute, or Maoists fighting for economic opportunity for that matter. And uneven praise for India would be reflected not just by Kashmiri separatist leaders but also China, whose oppressive disputes in Tibet and Xinjiang make it a constant target of US human rights allegations.
"Faced with such gross violations of human rights," Obama continued, "it is the responsibility of the international community - especially leaders like the United States and India - to condemn it. And if I can be frank, in international fora, India has often shied away from some of these issues."
Although Obama did briefly reference Kashmir as a disputed territory, contrary to the "internal matter" that is India's position, the above statements appears to be the most direct response of his visit.
For India, Obama did everything it could have asked and he still might have gone too far. To Muslim Kashmiris, not far enough. Obama's words are soaked in hypocrisy, preaching human rights while staying neutral on India's behavior in Jammu and Kashmir. Amid praise of India's rise, Obama labeled intervention towards an oppressive country as "leadership," then refused to "lead." Questioned on relations with India and Pakistan, Obama answered with Kashmir in mind that Washington, "would be happy to play any role the parties think is appropriate."
Then, fully conscious that New Delhi considers Kashmir an internal matter, played the White House's standard out: "America cannot impose a solution."
And since no one else would state the obvious, Pakistan naturally took aim at Obama's symbolic opening for India on the UN Security Council. Accusing India of "blatant violations" of UN resolutions (and possibly channeling Beijing), Obama was urged to, "take a moral view and not base itself on any temporary expediency or exigencies of power politics."
As expected, Obama instead tried to pass Kashmir off to Islamabad, lumping it together with Pakistan's overall militancy rather than treat it as an independent, legitimate resistance to Indian rule. US and Indian officials so quick to decouple Kashmir from Afghanistan vigorously handcuffed Pakistan and Kashmir together.
At nearly all times Obama followed the lead of Indian Prime Minister Manmohan Singh, who declared, "We're not afraid of the K-word. But talks can only happen when Pakistan has ceased its policy of terror-induced coercion. You (Pakistan) cannot simultaneously be talking and the terror machine is active as ever before."
No one pointed out that India also speaks of peace while spreading terror among Muslim-Kashmiris, as countless people will describe, or that India's slow response is hardly quicker than Pakistan's.
Yet this imbalance once again accounted for Obama's eventual concessions on Kashmir. When offering a coveted seat on the UN Security Council, he had no choice but to indirectly reference Kashmir by adding, "with increased power comes increased responsibility." Nothing that Obama said was consequential in itself, and such feeble remarks could merely entrench the status quo in Kashmir. Nevertheless, his visit to India holds the potential to alter the status quo if the All Parties Hurriyat Committee (APHC) formulates the correct strategy.
APHC chairman Mirwaiz Umar Farooq seems to have accurately perceived the significance of Obama's visit. While Farooq
didn't expect a major address
, Obama did create the next step in the long march towards self-determination.
Although APHC leader Syed Ali Geelani probably just lost his last ounce of faith in Obama, he took a similar approach by
claiming vindication on Kashmiris' position
: ''The statement should be an eye-opener for the Indian leadership and it should give up describing Jammu & Kashmir as its integral part and resolve the dispute in the interest of the regional peace."
That it will not be. New Delhi may have hoped that Obama would exit without ever entering the dispute, yet only colossal naivety would expect him to remain totally silent. That doesn't mean Obama's words will be taken to heart though. With Kashmiri protests on the downswing, the illusion that the conflict may recede could be setting in. India feels like it got everything its way from Obama.
When the next time comes it will probably try to again.
Singh, Obama, and Farooq are all correct that Kashmir's dispute should be resolved through trilateral negotiations. America's job, needing the cooperation of both states, is to force each side to the table and lock the doors. That leaves the Kashmiri dispute where it started - in the hands of Muslim-Kashmiris.
Relying on Washington to pressure New Delhi doesn't equate to complete reliance on America or other external assistance. In fourth generation warfare, the success of local struggles waged through civil disobedience often depends on their level of political and media awareness. Obama may not have said anything at all in absence of the last five months of protests. Today Muslim-Kashmiris forced open one of his fingers.
Only through persistent, collective action can they pry open his whole fist.