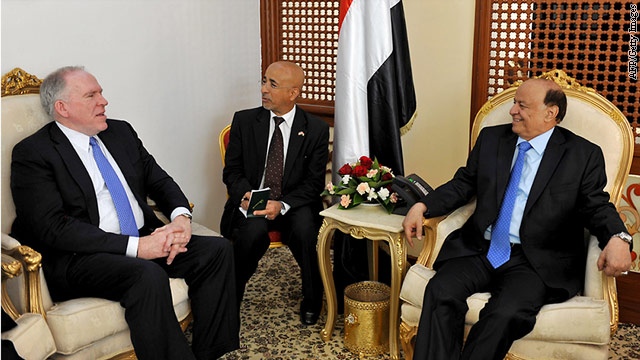 The White House's counterterrorism chief, John Brennan, meets with President Abd Mansur Hadi during his latest visit to Yemen
On Wednesday the White House
released an Executive Order
in response to ongoing developments in Yemen. Declaring a national emergency to deal with Yemen's "unusual and extraordinary threat" to America's national security, President Barack Obama has threatened to initiate financial sanctions against any party that "obstructs the implementation" of the Gulf Cooperation Council's (GCC) power-sharing agreement. Except the administration's decision rests not on the foundation of democracy, but on the unstable base of hypocrisy and neo-imperialism.
Critics of U.S. policy in Yemen will be unable to disprove that Obama's latest order represents a guarantor of the GCC deal. Constructed to expand American hegemony in the country, the executive order
mimics previous U.S. statements
that refuse to call out former president Ali Abdullah Saleh by name. Instead, "the actions and policies of certain members of the Government of Yemen" are left for the audience to piece together. The administration would subsequently
deploy Bruce Riedel to CNN
to describe its message as "pretty effective hardball."
Riedel is correct in assessing the White House's order as hardball - but a wider list of targets exists outside of Saleh's circle. Meanwhile the financial threat against him and his family remains relatively soft. For starters, the Obama administration still cannot bring itself to speak Saleh's name, demonstrating that its kid gloves have yet to fall off. Contrary to a safety issue, the policy of gradually (and silently) nudging Saleh out of power is linked to hegemonic ambitions. U.S. and EU officials also have floated the possibility of sanctions on various occasions without acting, even though Saleh has persistently obstructed the GCC deal since its release in April 2011.
More perversely, the threat of financial sanctions now guards the immunity afforded to Saleh's family by the GCC and UN. The White House hopes to scrub away at least some of this mess before May 22nd's "Friends of Yemen" conference in Riyadh, where Saleh signed the GCC's deal in October 2011, yet Obama inadvertently exposes his administration's hypocrisy by indirectly targeting Saleh as a "national security threat." With full knowledge of his duplicitous personality, the White House and Pentagon accelerated its support for Saleh's regime prior to Yemen's revolution and has yet to let go completely.
Washington's latest message to him is severely blunted: "If you obey us, we will not punish you for crimes committed against the Yemeni people."
The White House's order builds on the accumulating momentum to expand U.S. hegemony across Yemen's sphere of influence. Playing with the ambiguity of a nameless list of threats, the order reads like a declaration of political war on all opponents of the GCC deal. Some figures, such as rogue general Ali Mohsen and the al-Ahmar brothers (tribal heavyweights Sadiq and Hamad), accept the GCC's terms but could be targeted if they reverse positions in the future. The northern Houthis sect and Southern Movement, both of which oppose the GCC deal's principles, also represent theoretical targets for U.S. pressure. Although these groups lack assets to freeze, the White House's current behavior implies that full-spectrum marginalization lies in store for any opponents of U.S./GCC actions. That includes Yemeni revolutionaries, whose input is found only at the anticlimactic presidential referendum of Saleh's former vice president, Abd Rabbuh Mansur al-Hadi.
The Obama administration has warned Yemenis not to oppose a national power-sharing agreement negotiated by Saleh and foreign powers. The core message of his Executive Order: accept a political resolution crafted in their intentional absence, and accept the U.S. counterterrorism operations that come with it.