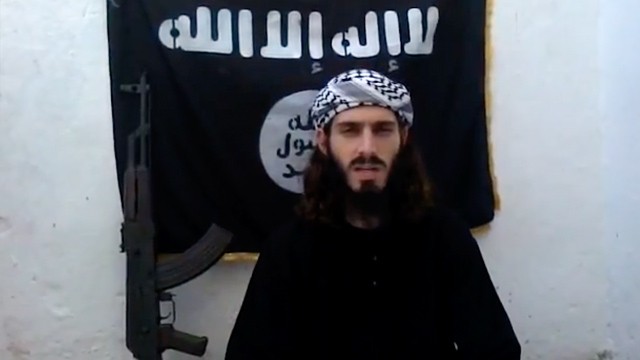 Omar Hammami didn't travel across the world - from Alabama to Toronto to Cairo - and survive five years of warfare just to be killed by his own side. A veteran of Ethiopia's 2007-2009 invasion, Hammami had monitored the rise of Somalia's Islamic Courts Union (whose hardliners later assumed the name of their military wing, al-Shabaab) and landed in Mogadishu amid the first waves of diaspora. Hammami quickly joined the movement's pursuit of an Islamic state and used his charisma to rise through al-Shabaab's ranks. He's also defied two death notices and one airstrike while taunting Washington through propaganda videos and crude raps.
Now Hammami, known as Abu Mansoor al-Amriki to his followers, sits at the crossroads of al-Shabaab's disinformation and fo

reign recruiting.
On Saturday Hammami released a new video to "whomever it may reach" on YouTube, alleging that his life "may be endangered by Harakat Shabab al-Mujahideen due to some differences that occurred between us regarding matters of the Sharia and matters of the strategy." From one media to the next, al-Shabaab utilized it's Twitter feed to inform Hammami and "our Muslim brothers that Al-Amriki is not endangered by the mujahideen, and our brother still enjoys all the privileges of brotherhood." This process repeated itself on Sunday after al-Shabaab supposedly raided Hammami's house in Merca, an insurgent base located 70 miles south of Mogadishu.
Other reports claim that he was arrested near Kismayo, 200+ miles south of Merca. Either way, al-Shabaab's Twitter feed again rejected this news as "false propaganda" and warned its fighters, "Beware of such inaccurate reports."
False as they may be, Somali journalists and observers see something tangible to the latest crack in al-Shabaab's hierarchy. Hammami's current situation may not symbolize any fresh divisions within the insurgency's chain of command, but he does highlight the established gap between national and transnational factions. Hammami has served as al-Shabaab's international face, attracting dozens of foreign fighters to Somalia, and allegedly supported the group's merger with al-Qaeda. The emerging theory, outlined by Somali-American reporter Abdi Aynte, predicts that the nationalist faction seeks to remove him from the battlefield and keep the conflict internalized.
Whether or not Hammami has overstayed his welcome in Somalia, the struggle between al-Shabaab's factions continues to exert an influence on the insurgency, Somalia's Transitional Federal Government (TFG) and its foreign allies. The merger between al-Shabaab and al-Qaeda is the formal work of Moktar Ali "Godane" Zubeyr, who pledged allegiance in 2010 and again in 2012. A Somaliland native, Godane led al-Shabaab and oversaw al-Qaeda's integration before being replaced by Ibrahim Afghani in December 2010. He was later promoted to the head of al-Qaeda's cadre after the death of Fazul Mohammed; Aynte cites "firsthand knowledge" that Godane setup Mohammed at an Afgooye checkpoint.
Like Hammami's own fate, the long-term effects of this national-transnational split remain to be seen. Division within an insurgency's leadership and ground forces can expose the force to widespread vulnerabilities, impairing its fighting ability, recruitment and message to the local population. Conversely, a divided network can be more difficult to assess, militarily eliminate and negotiate with. Taking these factors into consideration, Hammami's future could shed light onto a strategic blind spot or merely add a new chapter to his history as a propagandist.