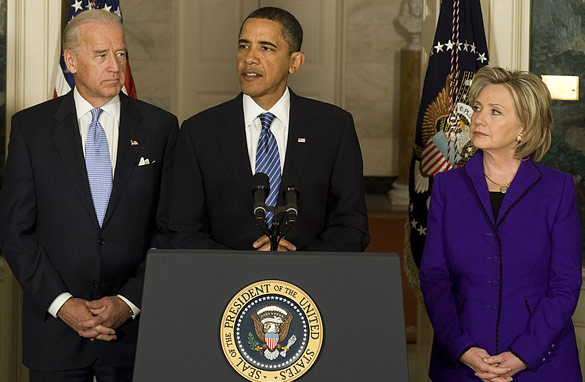 After a painfully sluggish start, the White House has finally brought its Egyptian response closer to uniformity. Condemning attacks on Egyptian protesters and foreign journalists, calling for a transition "now," and repeating that Egypt's future "will be decided by its people," President Barack Obama and Secretary of State Hillary Clinton are pushing back against widespread criticism of a disconnect with Cairo's streets. But they may never catch up.
Another U.S. consensus: absence of the word "dictator" and a final call for Hosni Mubarak's exit.
Under Egypt's surface lie too many contradictions to count. Built on the crumbling foundation of U.S. policy in the Middle East, the Obama administration's response has suffered a roll-call of gaffes and flubs, generating a disturbing amount of confusion atop America's power structure. This response doesn't instill confidence in other areas of U.S. foreign policy.
One White House official acknowledged
that America's "quiet diplomacy" is feeding public perceptions that Obama, "might be willing to let a moment of revolutionary opportunity pass for fear of its impact on American interests."
Thus Obama spent Saturday lobbying regional leaders for help in pushing Mubarak out of office - though few responded to a largely U.S.-enabled crisis.
While Obama cannot be blamed for previous U.S. policy, his vanilla response to Egypt is hardly the break from the past that he promised when elected. The White House seems to believe that easing Mubarak out is the safest approach, but this strategy also follows the same failed habits of prior administrations.
"This is what happens when you get caught by surprise," said one U.S. official who spoke on the condition of anonymity. "We've had endless strategy sessions for the past two years on Mideast peace, on containing Iran. And how many of them factored in the possibility that Egypt moves from stability to turmoil? None."
From "not seeing" Egypt's revolution (which seems impossible), to its initial backing of Mubarak, to meek warnings preceding systematic attacks on foreign journalists, the Obama administration has America acting like a mouse dressed in lion skin.
Given the White House's response, it's no surprise that Obama's personal judgment has taken a beating as well. By relying on so many officials - many too close to Israel for the Egyptian people's comfort - one can imagine Obama becoming overwhelmed by the massive influx of information, but also the policy tug-of-war inside the West Wing. The resulting disarray and hesitation during an emergency contradicts the function of the executive branch.
And Obama's rhetoric has dirtied itself from the backwash. After Mubarak drowned out Obama's Tuesday comments with vicious attacks on Egyptian protesters and foreign journalists, Obama released another statement Friday: "He needs to listen to what is voiced by the people and make a judgment about a pathway forward that is orderly, that is meaningful and serious."
Obama then defended him by saying, "I believe that President Mubarak cares about his country... He is proud, but he is also a patriot."
These comments allude to Mubarak's plea that he was born in Egypt and wishes to die in Egypt. Although levels of atrocities are dangerous to compare, Saddam Hussein was also born an Iraqi and died an Iraqi "patriot" to some. Most dictators are homegrown. Obama continues, "Going back to the old ways is not going to work. Suppression's not going to work. Engaging in violence is not going to work. Attempting to shut down information flows is not going to work."
Mubarak is a patriot, then, whose enlightened ways include violent suppression of political parties, free speech, and information. Makes perfect sense - in the twisted land of U.S. foreign policy.
Topping off their conflicting messages, Obama and Clinton have repeatedly declared that, "the future of Egypt will be determined by its people," while simultaneously backing Vice President Omar Suleiman as Egypt's transitional figure. U.S. Vice President Joe Biden, a loyal Mubarak ally, told his Egyptian counterpart Saturday that he wants to see "immediate steps" in democratic reform. Yet Egyptian security is still arresting organizers and obstructing protesters from Tahrir Square, trying to squash the opposition movement.
Clinton eluded to the possibility of a "radical takeover" by warning, "this is why I think it is important to support the transition process announced by the Egyptian government actually headed by now-Vice President Omar Suleiman."
Even if a fully-represented Egyptian opposition does agree on Suleiman, the White House has nevertheless contradicted itself in leaping ahead with his transfer. Two birds of the same feather, a dozen Americans even met with Suleiman in Cairo on January 23rd, days before Egypt's uprising began its final ascent. He insisted that Egypt could never follow in Tunisia's wake, according to a former American official who attended.
"They just did not see this coming. They could not wrap their heads around it."
So the two entities who didn't see Egypt's future coming are now supposed to transition its future? This one is particularly confounding.
And no list is complete
without Frank Wisner
. A self-described "old friend" of Mubarak, Wisner had been dispatched with a letter from Obama and Clinton warning Mubarak and his son Gamal not to seek re-election in September. The former U.S. Ambassador to Egypt then told a security conference in Munich, Germany that, "President Mubarak remains utterly critical in the days ahead as we sort our way toward the future."
"This is an ideal moment for him to show the way forward," Wisner affirmed.
His comments did address a number of legitimate issues, primarily the maze of constitutional amendments that block Mubarak from transferring power. They also fall into the trap that Egypt's opposition must abide by the constitution, even if the current government hasn't. Wisner drew so much rebuke that he has since been recalled "because his usefulness as a conduit had been undercut." However, the White House continued to defend itself in public by denying association with Wisner's remarks. He was simply speaking as a private citizen.
So the White House sent a former ambassador on a critical mission, who then spoke in a private, "uncoordinated" capacity at an international venue. These contradictions almost start to make sense after one grows accustomed to them. Internally, White House officials acknowledged that Wisner had proven a total embarrassment.
As a final laugh, one senior Obama adviser insisted on Saturday, "We are not trying to be prescriptive. The Egyptian leadership knows what it needs to do, and they don't need us to lay it out in detail." Apparently they do, as if Mubarak wouldn't have ceded an inch without U.S. pressure to eventually resign. Another administration official understated the need to give Mubarak "a push," who continues to fight for his power.
There might be as many contradictions in U.S. policy as there are marching Egyptians.
Ultimately Egypt is but a star in America's galactic contradiction of
selective democracy
. How different the reaction would be to similar events in Iran. Contradictions in U.S. policy shackle Egypt's transition from authoritarianism to democracy. Although Obama has told Mubarak to listen to those voices in the streets, he needs to listen up too.
"Free Egypt now."