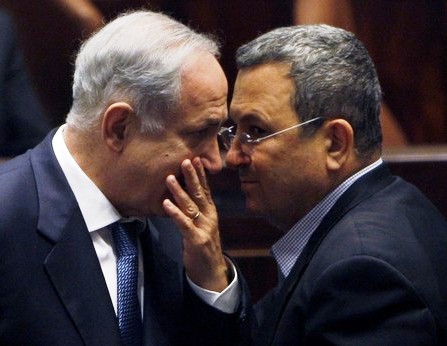 When Israeli Prime Minister Benjamin Netanyahu first announced his intention to deliberate the Gaza blockade within his cabinet, he was better left alone until after he made a decision. The theoretical vote ended up being postponed under mixed messages from the Israeli government.
Now Netanyahu, along with Quartet envoy (and temporary partner in crime) Tony Blair, claims his security cabinet has agreed to "ease" or "liberalize" the blockade. More civilians goods are said to be cleared while a system is being worked out to transfer foreign naval aid through Ashdod's port.
A statement issued after the meeting
said the cabinet would decide in the "coming days on additional steps to implement this policy."
Blair would later hail Israel's moves with PBS's Charlie Rose, but he only spoke from the US viewpoint.
"We welcome the general principles announced earlier today by the Israeli government," Mark Toner, State Department spokesman,
told reporters yesterday
. "They reflect the type of changes we've been significant with our Israeli friends. And Senator Mitchell, who was in the region, will continue working on them in the coming days."
International reactions
were tepid; the UK and EU called for more action, Palestinians and Arab states for a lot more. Many actors fumed that the blockade wasn't terminated and vented at Israel's refusal to end its total naval blockade. Neither Israel's investigation into the Freedom flotilla raid nor its response to the Gaza blockade have elicited any concrete approval outside Washington.
Unfortunately for Blair the situation remains as fluid as Tuesday, when Netanyahu's cabinet convened a first time. By the time Blair sat down with Rose his reality had already changed - or maybe never was. While Blair explained how he convinced Netanyahu that the blockade weakens Israel and strengthens Hamas,
the Haaretz

detailed the ambiguity
plaguing Netanyahu's "decision."
"The Prime Minister's Office issued a press release in English following the meeting, which was also sent to foreign diplomats, was substantially different than the Hebrew announcement – according to the English text, a decision was made to ease the blockade, but in the Hebrew text there was no mention of any such decision."
The Haaretz
speculates, "It is not clear whether this discrepancy was a deliberate attempt to buy time in the face of international pressure, or a clerical omission on behalf of the Prime Minister's Office."
Unstable as the situation is, Israel has apparently yet to decide on a formal policy change to the blockade. Some officials have denied reacting to international pressure, even as others admit they're trying to please the international community. Several flatly denied a change in policy, pending further notice.
One senior defense official said Thursday, "there was every intention to increase the transfer of goods into Gaza even before the cabinet meeting. We have notified the Palestinians, regardless of the cabinet meeting, that we will allow the entry of food items, house wares, writing implements, mattresses and toys. Beyond that, we have not said a thing."
"A meeting will be held soon, and we hope that a binding decision will be taken then," Netanyahu's office later explained, saying the reason for the delay is, "the need for continued contact with allies within the international community in order to gain support for the liberalization plan."
The Haaretz
points out, "This despite the fact that most of the international community has already voiced support for the plan, following a campaign launched by Blair, who drafted the plan with Netanyahu... Israel made its decision after consultations with U.S. and European officials."
And also, "According to the officials charged with the actual monitoring of the transfer of goods into Gaza, they have not been notified of any change in policy as a result of the cabinet meeting."
Two different speeches, one for the English crowd and one that omits the blockade easing in Hebrew. Downplaying international pressure while seeking "allied" international approval - that's already been given. Denying an official decision completely while diverting attention to IHH by
putting on a terror watch list
.
Either Israel is waiting for Arab approval - obviously not - or stalling for time.
What Israel's waiting for is harder to understand. America will be unable to win over Turkey, Russia, and China on Palestine. Is this just more Israeli defiance or folly? All waiting gets it is aid ships from Turkey,
Lebanon
, and
Iran
- a cocktail of political, propaganda, and psychological warfare.
Defense Minister Ehud Barak is caught up somewhere in the middle of this chaos with Netanyahu. Irony or karma has thrust them under siege. Netanyahu should cease his doublespeak and quickly work out an international standard for the Gaza blockade and the flotilla investigation. Or anything better than he's got going now.
Israel still lacks the strategy to handle the next naval barrage.