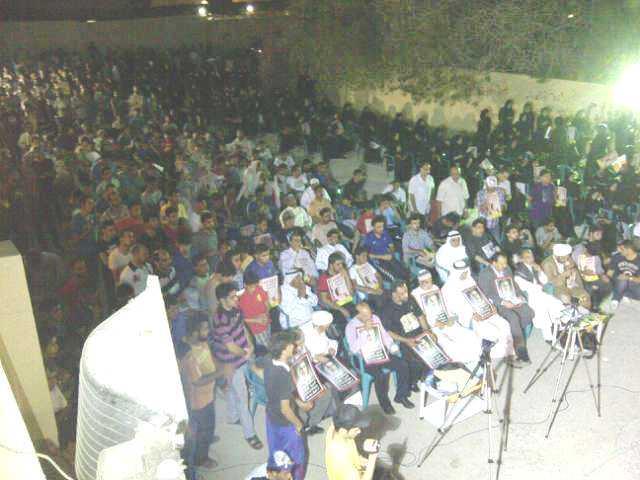 Massive show of solidarity outside Nabeel Rajab's home
Two weeks ago Sumaya Rajab, the wife of imprisoned Bahraini activist Nabeel Rajab,
posted an open letter to U.S. President Barack Obama
. Sentenced
to three years in prison
for "inciting" and participating in "illegal gatherings," Nabeel would appear before the court as a beacon of freedom and justice, a man who can beaten physically but not mentally. Sumaya would appeal to Obama with these very virtues: "Victimized people of Bahrain are calling upon the universal values and principles that United States is embracing."
The response: sit back and watch Rajab's cruel and unusual punishment.
Despite a continual rise in Bahrain's hostilities from February 2011's initial democratic outbreak, both sides of Washington still doubt that they have much to gain from embracing the island's opposition. Confronting Iran and protecting Israel, shipping routes and oil supplies plays better than supporting a relatively small opposition in a foreign land. The Obama administration has downplayed Bahrain throughout the Arab revolutions, with considerable success at home, but the opposition universally agrees that U.S. policy is negatively affecting their struggle for human rights and political representation. Most GOP presidential candidates, sadly, would offer even less words of support and back them with the consent of force.
A month after Rajab was jailed on July 9th and held at the notorious Jaww prison, Washington could only muster a
letter of support
signed by two Senators and 17 Representatives - apparently leaving the other 98 and 418 on King Hamad bin Isa al-Khalifa's side.
The White House has been equally unhelpful throughout Rajab's numerous arrests and his campaign to raise awareness in Bahrain. By the time he arranged a series of media appearances to kick off the summer, Rajab had come to accept the immovability of U.S. policy after previously hoping that America's Fifth Fleet would loosen Washington's security bond with Manama. The head of Bahrain's Center For Human Rights (BCHR) had just watched Crown Prince Salman mingle with Vice President Joe Biden, Secretary of State Hillary Clinton and Secretary of Defense Leon Panetta as he languished in a jail cell. Rajab and his family have also been subjected to abuses at home, including night raids and tear gas assaults. When he was rearrested in July, the State Department
waited two days before expressing "concern"
- at the prompting of inquiring reporters - and refused to explicitly call for his immediate release.
These isolated defenses are designed to float in a sea of silence, maintaining an obligatory level of interest to ward off criticism of inaction. Accordingly, Sumaya observes that the State Department "already expressed 'Worries' and 'Concerns' about Nabeel's imprisonment but the government of Bahrain ignored all such 'Concerns.'" Her letter is almost too reasonable and inviting, given the situation of her family, but Sumaya wisely attempts to relate her cause to Obama and the founding ideals of America. With nowhere left to turn in Washington, she requests "your kind intervention to explicitly call for Nabeel Rajab's immediate and unconditional 'release from prison' because Nabeel is a prisoner of conscience." However Obama has yet issue any personal reaction to Rajab's imprisonment or the abuse that Bahrain's government is subjecting him to, both before and after his sentencing.
Sumaya
attempted to list the offenses
following a one-hour visitation, which itself was reduced to 25 minutes: repeated personal inspections, limited clothing, isolation from other "political prisoners of conscience," solitary confinement in a 5x7 cell that allegedly contained a dead cat. Rajab's medical needs have also been ignored as part of the government's plan to break him down, but they will have to kill him to stop him. Sumaya "confirmed that in spite of all this suffering, Nabeel's psychological state is very strong and that he always raises the victory sign."
This inhumane episode repeated without any change last Tuesday when Bahrain's High Court of Appeals
ruled against
a selection of Bahrain's oppositional leadership. Many were sentenced to life for "plotting to overthrow the regime," a charge that sounds inherently autocratic, and those who weren't tried in absentee have endured treatment similar to Rajab's. Even more disturbing, six men were subjected to cooked-up charges of "having intelligence contact with foreign entities." Western ideals of due process have been thrown out the window during a prolonged appeals process, and Bahrain's opposition argues that the defendants shouldn't have been imprisoned in the first place. Their failed appeal also indicates the worst for Rajab, who is scheduled to hear his own appeal on September 10th (
now delayed
until the end of the month).
Abdullah Al-Khawaja, perhaps the most high-profile defendant, was acquitted of conspiracy and still imprisoned.
The monarchy's defense of Tuesday's outcome fleshed out its grotesque nature. Speaking after the verdict, Chief Prosecutor Wael Buali claimed that the defendants "received full medical care during their incarceration," contrary to their families' accounts. He further argued that all defendants received a fair trial and appeal, going so far as to "remind" them that they are "fully entitled to appeal their sentences." However Buali hopes that they stay locked up for good. Declaring the verdict to be a "victory for Bahrain's justice system," he believes that the case proved "that the defendants had ties with Hizbollah and Iran."
Clergyman Mohammed Habib Al-Saffaf, the one man who escaped this charge, illustrates the depth of the accusations at work. Identified as the mastermind behind several kidnappings and beatings, al-Saffaf was also accused but ultimately acquitted of maintaining ties with a terrorist organization. He had been
rumored
to arrange the welcoming party for "40 warships Iran was planning to send to Bahrain to support an attempted coup."
As for Rajab, no one can deny that he encouraged previous demonstrations and Friday's protests in Manama - his Twitter account pointed Bahrainis in the right direction. The monarchy's attempt to break his spirit and mobilization network is having as little an impact as Western statements of "concern." The State Department would release another statement after Tuesday's ruling only to disappear again, while other Western sources of power have similarly failed to match their belated words with actions. UN Secretary-General Ban Ki-moon's reaction encapsulated this futility by "reiterating the right to a fair trial" after a round of unfair trials had been finalized. Nor can King Hamad's monarchy afford to reverse course in the face of foreign pressure - Rajab, Al-Khawaja and other oppositional figures are being punished for domestic consumption.
Their release is a magnanimous gesture in the making, but one that is unlikely to be delivered.
The sum of Bahrain's latest developments underscore the existing deterioration of U.S. policy. Attempts to facilitate a new "national dialogue" will continue to fail so long as the island's repressive climate suffocates the opposition; the false expectations and broken promises generated by this strategy have already contributed to Bahrain's stalemate. Comparing the violence of Bahrain's government and protesters is similarly counterproductive and insulting to pro-democracy forces. Anything less than full agreement with the opposition will fail to halt the conflict's trajectory, but the Obama administration could lose the King and most of Washington's support in the process.
This dilemma leads to only one set of conclusions: either the administration isn't pushing hard enough to change the monarchy's behavior, or King Hamad's regime has become so authoritarian that U.S. policy hangs at the mercy of tyrants.