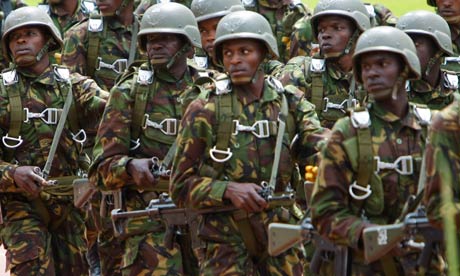 Over one week has passed since Kenyan warplanes began bombing al-Shabaab camps inside southern Somalia. The incursions signaled the beginning of Operation Linda Nchi, Swahili for "Protect the Nation," along with Kenya's determination to stabilize its porous eastern border. Despite an extensive use of disinformation to confuse al-Shabaab, the militant group's port of Kismayo quickly emerged as Nairobi and Mogadishu's primary target.

Prior coordination left no doubt that Kenyan officials envisioned a sustained campaign.

Linda Nchi's objectives are coming into sharper focus as it progresses, except its time-line and territorial scope remain obscured. For now all roads in southern Somalia lead to Kismayo, a city of 150,000 located roughly 120 miles from Kenya's border. Nairobi's assault launched from Dhobley, a border town under control of the Kenyan-backed faction of the Ras Ramboni Movement (with the other faction operating under al-Shabaab's umbrella). A second armored column seized key towns near the coast, notably Kolbio and Kaambooni, before advancing near Buur Gaado, some 90 miles south of Kismayo. Meanwhile Kenya's navy is moving to blockade Kismayo and provide sea support.

"This provides a vantage point for us to clear al-Shabab and pirates from the Somali coast in Kismayo," Major Emmanuel Chirchir, a spokesman for Kenya's military, told The Associated Press. "Al-Shabaab is in disarray."

Like the beginning of many military operations, Kenya's assault is unfolding smoothly in the absence of al-Shabaab's resistance. The only setback is natural - Somalia's second rainy season, Dayr - and Kenyan troops are miles from initiating a battle for Afmadow, al-Shabaab's regional garrison. The group has mounted a nebulous defense, with some fighters digging into the town while others camp in the surrounding brush. Nairobi already claims to have killed 70 militants in preemptive air-strikes, but local residents warn that al-Shabaab is preparing to defend the town rather than melt away. An unconfirmed ambush near the area killed two Kenyan troops, and commanders are anticipating their first battle in the near future.

"We want to assemble all our equipment together before the offensive resumes," Chirchir told The Nation.

Kenya's campaign will begin to define itself after the battle for Afmadow. A quick battle (1-2 weeks) will preserve the operation's momentum and keep its pace, while a prolonged assault will signal immediate warnings to Nairobi. Advancing to Kismayo, let alone occupying it, is an uphill grind; a week was needed to transport columns into Afmadow and reaching Somalia's southern port could exceed another week. On one level Kismayo's siege has already begun after unidentified warplanes (either U.S. or French) bombed an al-Shabaab base near the port, while a French naval gunship fired on a pirate haven to the south. However stabilizing Kismayo requires a ground presence of military and non-military personnel.

Occupying the city until al-Shabaab can no longer "fire a single round," as Chirchir described the mission, will require an unspecified period of months. Nairobi's justification for war is valid beyond kidnapped aid workers - for too long the government has lived with Somalia's uncertainty. Another neighbor also improves the cohesion of Somalia's regional response, whether in the African Union or Intergovernmental Authority on Development (IGAD). The central problem, as Nairobi visibly understands but currently risks, is mission drift. Instead of depleting al-Shabaab's ranks and infrastructure, Kenya appears to be pursuing full-fledged counterinsurgency in southern Somalia.

"We are determined to cleanse al Shabaab from Kismayo and then from all of Somalia," General Yusuf Hussein Dumaal, head of government troops in southern Somalia, told Reuters several days ago. "We hope it will not take us a week to capture Lower Juba region, particularly Kismayo."
A week, of course, has already passed. In a best-case scenario, Kenyan troops and tanks moving along the coast reach Kismayo within 10 days, sparking an urban battle with al-Shabaab. Several weeks may be needed to clear the city for Somali troops and the Ras Kamboni militia, followed by a period of joint-security operations. A group of Somali exiles
financed by Nairobi (Azania's newly-established council) would assume administrative duties to keep Kismayo's lucrative port open. One encouraging sign is the local population's willingness to cooperate, but prolonged resistance from al-Shabaab must be expected. Thus a best-case scenario falls between two and three months in Kismayo - and war in Somalia rarely follows a government's script.
Problematically, controlling Kismayo and Afmadow without the surrounding region will lead to an inefficient campaign; these towns were seized from militant hands in 2006-07. Kenyan and Somali officials have talked about pushing al-Shabaab out of the entire Jubaland, which stretches over 30,000 square miles, while the secondary ports of Marka and Baraawe have been tagged for blockade, opening the possibility of a ground operation hundreds of miles north of Kismayo. Kenya's force is estimated at two battalions of 800 men, with additional police officers, and Somalia's Transitional Federal Government (TFG) has contributed an undisclosed number of troops.
These forces, combined with the Ras Kamboni and well-trained Ahlu Sunna, face an estimated 1,000-2,000 al-Shabaab guerrillas and al-Qaeda cells.
D
espite al-Shabaab's weaknesses, the current
ratios of troops and territory
favor a guerrilla's protracted struggle. Securing Lower Juba will likely require additional reinforcements and time, and a regional sweep would miss al-Shabaab's southern garrison in Gedo. The dual possibilities of over-committing into Somali territory and underestimating the present challenge have triggered anxiety in Western and African analysts, some more reasonable than others. Former UN Secretary-General Kofi Annan recently expressed these fears while summarizing protracted insurgency.
"I suspect the message they're (Kenya) trying to send out is 'we will not stand by, we will defend our territory, stop the incursions, stop coming in to kidnap people, stop coming in to commit crime'," Annan told Reuters last week. "But one has to be careful that this engagement doesn't lead to a long, drawn-out entanglement and I hope the government, and I suspect the government, is aware of that... I think if they are defending their borders, it's one thing. If they decide to go into Kismayu, it's another thing altogether."
The red line between realistic mission and quagmire extends around Lower Juba; securing this region should be the maximum range of Nairobi's mission. A common, often fatal error in COIN is promising more than can be delivered, and Kenyan officials must manage internal and external expectations with extreme care. Over-promising and under-delivering weakens domestic support, emboldens the enemy and undermines the local population's trust. Nairobi's primary threat won't come from internal attacks, which only rally Kenya's people, but a high cost of invasion. al-Shabaab's opponents are operating under the belief that the group is crippled, setting up the possibility of underestimating a cornered foe.
"We prepared special troops to fight against the Kenyan invaders who illegally crossed Somalia's border," al-Shabaab's military spokesman, Sheikh Abdi Aziz Abu Musab, said in a recorded statement on Radio al-Furqaan. "We will teach them unforgettable lessons."
Whether al-Shabaab's bite still matches its bark will be revealed shortly. The group will surely mount a stiff resistance in retreat or through a semi-conventional defensive, but Kenya counters with a number of advantages. The TFG spent 2011 building up the credibility to approve such a mission, although President Sharif Sheikh Ahmed recently denied cooperating with the ground assault. Kenya's intervention isn't comparable to Ethiopia's futile campaign, at least not yet.
Historic animosity is minimal and local accounts indicate that Somalis are working with Kenyan forces.


How they respond during battle remains to be seen, but many are likely to cooperate if they retain confidence in Nairobi's mission.
Claims that Kenyan soldiers aren't "battle-hardened" can be flipped - they could make good counterinsurgents.
Now Kenya must keep its distance from Ethiopia; any friction with Mogadishu (if Ahmed isn't employing disinformation) must be smoothed over immediately. While Kenyan troops aren't needed to police Mogadishu or central Somalia, moving across the south will eat up resources and time. Western air strikes should only be called in when absolutely necessary to avoid civilian collateral; Scott Gration, America's ambassador to Kenya, is currently negotiating the level of U.S. assistance. And if Nairobi intends to stay long, stay long.

The overarching positive is that Operation Linda Nchi doesn't appear to be unfolding in isolation, but as part of a wider strategy on land and sea. A year-long operation would gel with the TFG's scheduled election in August 2012. As Kenyan and Ethiopian troops squeeze al-Shabaab from the south and west, AU and TFG troops plan to gradually expand the security bubble outside of Mogadishu. 3,000 AU reinforcements await the funds to deploy and Ugandan President Yoweri Museveni has promised more. Kenya's current mission in Kismayo is ultimately designed to clear space for an AU contingent, which can begin to push into Lower Juba with TFG and proxy support. Premature withdrawal, then, could undermine a national campaign.

Any military intervention in Somalia generates unavoidable obstacles. Fears of past failures are running high, and history suggests that Nairobi will be lucky to achieve part of its goals with minimal blowback. Another challenge, though, is psychological - questioning whether Somalia's future will divert from its past. Can African nations finally stabilize the world's most unstable state after decades of civil war?
Kenyan officials are hoping that fortune favors the bold.