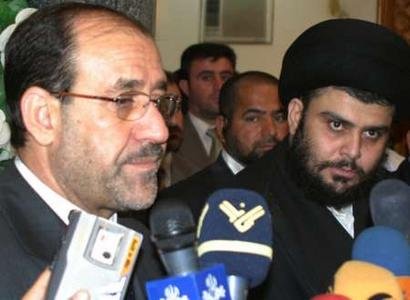 It's difficult to imagine US Vice President Joe Biden's words of confidence, one of the lamest declarations of progress thus far, soothing many Iraqis.
Biden recently argued
that now is too soon to judge Afghanistan as a failure, only to be opposed by President Hamid Karzai's call for an immediate review of US strategy.
Now in Baghdad
, Biden flashed an uninspiring sound-bite during a brief photo-op at the US embassy.
"We're going to be just fine. They're going to be just fine."
A variety of sources tell us everything is not fine: the US counter-media and international media, US commanders, and just about everyone on an Iraqi street-corner. August recorded casualties of 87 security forces and 270 civilians, one of the deadliest months since 2008, with hundreds more wounded. The climate of fear is said to be palpable. US and Iraqi officials have largely blamed the six-month political vacuum following March's parliamentary election, but the insurgency's remnants made a conscious decision to go underground and surface in the summer of 2010, when US combat forces were due to withdrawal.
The political vacuum simply confirmed their expectations and magnified their operations. The insurgency's oxygen would have depleted had Iraq's parties came together earlier, isolating al-Qaeda and its allies as the only obstacle to democracy. Political stalemate has shielded the insurgency by acting as a lightning rod for political and religious anxieties.
Ray Odierno, chief general of US forces, has kept cool while trying to prod Iraqi officials into a power-sharing agreement. But while he
told

The New York Times
, "negotiations had picked up and would prove successful," Odierno believes an agreement on the next prime minister is "four to six to eight weeks" away. "That's a guess." But, "if it goes beyond 1 October, what does that mean?" Odierno continues. "Could there be a call for another election?"
"I worry about that a little bit."
Though he won't admit so directly, Odierno is visibly concerned with Iraq's level of violence and the independent ability of its security forces. After car bombs, IEDs, and ambushes in at least 13 towns and cities left over 60 Iraqis dead in one day, Odierno claimed the attacks were "not unexpected." He may not intend to be, but such statements come off as callous during counterinsurgency. Biden, White House spokesman Robert Gibbs, State and Defense officials, and President Barack Obama have propagated a feeling of insensitivity by what appears to be denial of the situation. That this level of violence, being so much lower than 2006 levels, is "expected" or "normal."
"The trend lines have been steadily declining violence," Obama recently told NBC news. "Even after we left the cities [US troops pulled out last year] what you've seen is lower and lower levels of violence."
But many Iraqis are scared and dying, still without basic services, lack faith in their government as a whole, and believe the US is abandoning them. On the eve of Obama's prime time address, Iraqi foreign minister Hoshyer Zebari said he's "embarrassed" that US forces are withdrawing without a political agreement - and that America should be too. Thus Odierno is likely speaking for Washington when he adds, "What I would tell you surprised me a little bit was that they were able to do it over the country with some coordination." More than a little bit in general-speak.
No matter what US officials say in public, the reality is that they wish for an extension to US troop deployments past December 2011. Multiple sources inside the Pentagon have confirmed this, including Secretary Robert Gates. 160,000 private contractors, including at least 7,000 security personnel, can only do so much. A political agreement between Iraq's major parties is the keystone to America's strategy for its own reasons, but resolution is also necessary before editing Iraq's Status of Forces Agreement (SOFA). That is the real urgency in Washington.
Not surprisingly, those who oppose an extension to US forces have denounced US interference in Iraq's political system. Moshriq Naji, a senior official in cleric Muqtada al-Sadr's Sadr Movement,
condemned Biden
for trying to "impose foreign agendas," calling his "projects" unsuccessful.
While brushing off al-Sadr might be easy, it certainly isn't wise. With 40 parliamentary seats of his own, widespread religious authority among Shiites, Iranian support, and a fourth generation army, the young Muqtada has decades to grow his power - once US troops withdraw. al-Sadr has vowed to return only when the last US troop exits Iraq and would likely ensure his first step back is covered by international media. US officials haven't made the mistake of underestimating al-Sadr, treating him as the primary threat to US forces in Iraq.
At a basic level al-Sadr's militia, the Mahdi Army, has threatened to attack US troops if they stay after 2011. al-Sadr's soldiers are well-equipped, carry political legitimacy, and fight among a sympathetic population, rendering the army impossible to destroy. al-Qaeda, various national elements, and criminal organizations don't pose nearly the threat al-Sadr's militia is capable of. America has accepted Iraq's current violence because al-Qaeda justifies a continual presence after 2011.
That leaves al-Sadr as the primary threat, both an obstacle to the extension and an army waiting to retaliate on January 1st, 2012.
Though the Mahdi Army has avoided conflict with US and Iraqi troops, focusing on internal security and non-military, grassroots organization, US officials have started assigning ambiguous blame of Iraq's rising violence to al-Sadr, a trend likely to continue. US Brigadier General Ralph Baker told reporters on Monday that a spike in indirect fire towards the Green Zone is, "the work of Shiite militias backed by Iran trying to portray themselves as driving the American forces out of Iraq." Many Shiite militias exist, al-Sadr just happens to be at the top.
Complimenting this scapegoating, US officials have exerted all available means in the political arena to lock al-Sadr out of a power-sharing agreement. To this end Moshriq Naji's allegations are true. Biden, along with US diplomats in general, have encouraged an alliance between Nouri al-Maliki, the outgoing prime minister, and Ayad Allawi, whose al-Iraqiya List secured two more seats than al-Maliki's State of Law. The agreement makes fundamental sense as the two parties exceed the 163 seats necessary to form a government and include the largest section of Iraq's society.
With the Kurds under US protection either way, the arrangement also knocks out al-Sadr, who has negotiated with both al-Maliki and Allawi in their efforts to circumvent each other. It should be noted that al-Sadr is
considering relocation
to Lebanon, having resisted intense Iranian pressure to back al-Maliki for prime minister. As the enemy of an enemy, al-Sadr could be motivated to support Allawi and deny al-Maliki, one more reason for US officials to mount their resistance.
Along with al-Maliki and Allawi, Biden was scheduled to meet with Iraqi President Jalal Talabani, Sunni Vice President Tariq al-Hashemi, Shiite Vice President Adel Abdul-Mahdi and Shiite cleric Ammar al-Hakim, leader of the Iranian-backed Supreme Islamic Iraqi Council. As usual, neither he nor any US official will meet with al-Sadr representatives. Training security forces and advancing Iraq's political and economic system are part of America's efforts to maintain stability, but the strategy boils down to excluding al-Sadr from SOFA negotiations in order to extend the deployment of US forces.
Said US ambassador James Jeffrey
, "We would really have to ask whether we can have much of a future in this country given the Sadrists' political position."
Knowing al-Sadr - and realizing his military and political power - he's unlikely to go quietly into the Iraqi desert. Washington is desperate to prevent another Hezbollah from maturing, this time in its own backyard, but it should learn from Lebanon's situation. So long as al-Sadr wields legitimate political and social power, accommodating him into the system offers a more practical solution than open war. US officials should utilize their dwindling time and energy on more important issues.
al-Sadr has only threatened US forces, not the Iraqi people.